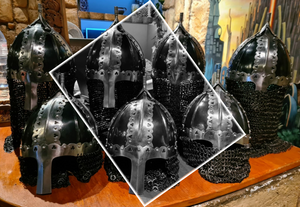 Viking helmets and Medieval clothing
Bohurt Grade Helmets
Viking Jewellery
New Viking Helmets
VIking Reenactment one stop shop!
Viking Reenactment and Medieval Goodies! Its the Viking Age Reborn! Your one stop shop for all things Early medieval. It might not feel like 1066, but with Bohurt Grade Helmets and lovingly crafted viking jewellery it'll get there! Our beautiful hnd crafted Viking Boots and huge assortment of products await your fingertips. So sooth your warrior spirit and look at our collections!
Most Viking Reenactors or Medieval Reenactors need to trust there gear, and make sure its sourced from places which can be trusted, we understand this stress, Viking Axes need to be spring steel, and conform to European Viking Reenactment rules, Viking Helmets need to be faithful reproductions which protect sufficiently.
Whether its Museum quality or faithful viking reenactment productions, we absolutely love bringing your dreams alive.